Religious Education for Children and Teens

Welcome to the UUCSJS Religious Education Program for 2015-2016!
Each week, the children in our community join the congregation for the beginning of our Sunday service. After collecting the food donations, the youth are "sung out" by the congregation to their Religious Education classes.
Our Sunday Classes:
Spirit Play
Pre-K - 1st Grades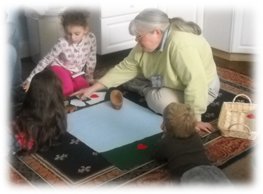 SpiritPlay
is a storytelling religious education program. During each class, the storyteller relates a story while presenting visual cues (small objects or pictures) to the children as a way to help the children remember the story.
Following each storytelling, the children are encouraged to interpret the story through art expression or revisit past stories. Included are legends from many different faith traditions, creative expressions of our Unitarian Universalist principles (introduced as "promises") and tales of our UU ancestors.
Windows and Mirrors
Grades 2 - 6th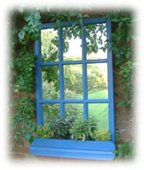 Windows and Mirrors
nurtures children's ability to identify their own experiences and perspectives and to seek out, care about and respect those of others. The sessions unpack topics that lend themselves to diverse experiences and perspectives -- for example, faith heritage, public service, anti-racism and prayer. The program teaches that there are always multiple viewpoints and everyone's viewpoint matters.
The metaphor of windows and mirrors represents the dynamic relationship among our awareness of self, our perceptions of others, and others' perceptions of us. Participants do guided work on individual Window/Mirror Panels in each session to explore looking inward and looking outward in terms of the session's topic. As a mirror, the panel reflects the individual child. As a window, it represents their view and connections beyond themselves to the congregation, other communities to which they belong and the world.
D'Oh God! and The Fifth Dimension
Grades 7 - 9th

The animated show
The Simpsons
is unique in that its characters are often seen attending church. In fact, religion is a dominant theme of this popular show. The family is often seen praying to God, and the show seems to be acutely aware of the significant place religion has in the American landscape.
D'oh, God!
uses episodes of
The Simpsons
as the basis for in-depth discussions of a wide variety of religious topics.

The Twilight Zone
tackled a diversity of social issues and political statements not seen in shows of its time. Its creator, Rod Serling (himself a Unitarian), believed that controversial messages and dialogues were needed to get a point across, and purposely created a science fiction show to get such messages past corporate censors.
The Fifth Dimension
uses episodes of
The Twilight Zone
as the basis for in-depth discussions of a wide variety of topics. At each class, an entire episode is viewed and the class engages in discussion and activities designed to encourage deep contemplation of issues.
For up to the minute news on activities and items of interest to parents of our RE children, visit our Director of Religious Education's blog at sjsdre!
Our classes are based on UU Principles:
We believe that each and every person is important.
We believe that all people should be treated fairly.
We believe that all our churches are places where all people are accepted, and where we keep learning together.
We believe that each person must be free to search for what is true and right in life.
We believe that everyone should have a voice about the things that concern them.
We believe in working for a peaceful, fair and free world.
We believe in caring for our planet Earth.
Our Mission
Through our Children's Religious Education programming, we encourage our youth to ask questions and explore. We seek to instill in them confidence as they set out on their unique spiritual journeys. We hope to establish a lifelong dedication in our youth to the Unitarian Universalist community at large.
Our Vision
Our Children's Religious Education Program provides weekly, age-appropriate classes covering introductions to different religions, UU history, UU identity, environmental and global issues, and social justice issues. We welcome new members to our youth program in a way that encourages them to make connections and want to return. We offer opportunities for the youth in the program to make a positive impact on our local and global community, and initiate opportunities for them to connect with other UU youth in our district.
Our Teachers
Our teachers are dedicated volunteers from the congregation who enjoy sharing with and learning from our community's youth. Please contact the Director of Religious Education if you are interested in participating in this unique volunteering opportunity.
Children's Religious Education Committee
The Children's RE Committee meets with the DRE on the first Sunday of each month. The Committee consists of teachers, parents and congregation members who come together to support and assist with the RE program, provide suggestions, and address concerns.
Director of Religious Education
If you have any questions regarding the UUCSJS Children's Religious Education Program or would like to register your child for our Children's RE classes, please contact the Director of Religious Education, Heidi Jannsch, at 609.965.9400 or by email at
sjsdre@gmail.com
.

Summer session fun – Balloon Animal Day, July 2014
Each summer our RE classes take a break and kids of all ages attending with their parents on Sundays enjoy an activity or craft led by a volunteer from the congregation. Some of the activities and crafts featured have included jewelry making, pottery, cooperative games, tie-dying, and making balloon animals.

Forsythe Nature Walk - April 2014

Murray Grove Retreat - June 2014