Helpful Links for Exploring
Unitarian Universalism
Here are some links that will help you get the bigger picture.
All of the links below take you to sites outside of the UUCSJS domain.

Unitarian Universalist Association
This is the home page of the UUA, the national parent body for all UU congregations.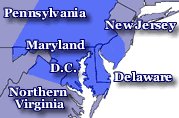 Joseph Priestley District of the UUA
This is the home page of the Joseph Priestley District, the regional body for our area of the UUA, comprising southern New Jersey, eastern Pennsylvania, Delaware, Maryland, and northern Virgina.

What is a Welcoming Congregation?
We are proud to display this logo as one of the hundreds of congregations around the country designated as a Welcoming Congregation.

UU World magazine
UU World
is an online publication produced by the UUA, featuring lots of content about UUs around the country and what they're up to.

Unitarian Universalist Service Committee
This is a human rights and justice organization that is associated with the UUA.
Skinner House Books
The publishing arm of the UUA. Many, many interesting books available via mail order that you cannot find anywhere else.

Beacon Press
Emphasizing religion, history, current affairs, political science, gay/lesbian/gender studies, education, African-American studies, women's studies, child and family issues and nature and the environment.